!Converted with LaTeX2HTML 95.1 (Fri Jan 20 1995) by Nikos Drakos (nikos@cbl.leeds.ac.uk), CBLU, University of Leeds >
---
Next:
What are the
Up:
No Title
Previous:
A Brief History
---
FreeBSD is developed and maintained by many people throughout the world. One machine, freefall.freebsd.org, is the CVS repository for the definitive current version. Mechanisms such as sup and CTM allow anyone to become a member of the development team.

FreeBSD is maintained by a team of ``core'' members who act as sub-editors for certain parts of the system. They also produce the major releases of FreeBSD.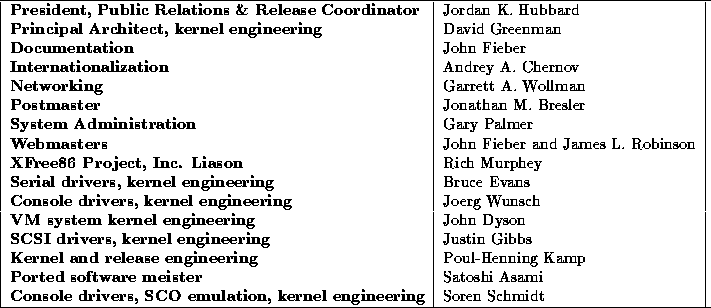 Here's the list of the contributors to FreeBSD:
Adam David, Adam Glass, Akito Fujita, Alain Kalker, Andras Olah, Andreas Klemm, Andrew Herbert, Andrew Moore, Anthony Yee-Hang Chan, Atsushi Murai, Bill Fenner, Bill Paul, Bob Wilcox, Brian Tao, Charles Hannum, Chris G. Demetriou, Chris Provenzano, Chris Stenton, Chris Torek, Christian Gusenbauer, Christoph Robitschko, Chuck Robey, Cornelis van der Laan, Craig Struble, Curt Mayer, Danny J. Zerkel, Dave Burgess, Dave Chapeskie, Dave Rivers, David Dawes, Dean Huxley, Don Whiteside, Eric L. Hernes, Frank Durda IV, Frank Maclachlan, Frank Nobis, Gary A. Browning, Gary Clark II, Gary Jennejohn, Gene Stark, Guido van Rooij, Havard Eidnes, Holger Veit, Ishii Masahiro, R. Kym Horsell, J.T. Conklin, James Clark, James da Silva, Janusz Kokot, Javier Martin Rueda, Jim Wilson, Jonathan Bresler, Josh MacDonald, Julian Elischer, Julian Stacey, Keith Bostic, Keith Moore, Kirk McKusick, Kurt Olsen, L. Jonas Olsson, Lars Fredriksen, Lucas James, Marc Frajola, Marc Ramirez, Marc van Kempen, Mark Murray, Mark Tinguely, Martin Birgmeier Martin Renters, Matt Thomas, Michael Smith, Mike Pritchard, Niimi Satoshi, Nate Williams, Nobuhiro Yasutomi, Nobuyuki Koganemaru, Ollivier Robert, Paul Kranenburg, Paul Mackerras, Paul Richards, Paul Traina, Peter Dufault, Peter Wemm, Philippe Charnier, Richard Stallman, Rob Shady, Rob Snow, Sascha Wildner, Scott Mace, Sean Eric Fagan, Serge V. Vakulenko, Stefan Esser, Stephen McKay, Steve Gerakines, Steven Wallace, Tatsumi Hosokawa, Terry Lee, Theo Deraadt, Thomas Gellekum, Tom Samplonius, Torbjorn Granlund, Torsten Blum, Ugen J.S.Antsilevich, Werner Griessl, Wolfgang Stanglmeier, Wolfram Schneider, Yuval Yarom, Yves Fonk.
---
Warren Toomey
Tue Sep 5 11:22:10 EST 1995